Dr. Seuss Comes off the Pages
Students bring Broadway's "Seussical the Musical" production to life
Led by guest director Michael Shackleford, students unveiled the play, "Seussical the Musical". "Seussical," originally performed in Broadway in 2000, combines six popular stories written by Dr. Seuss.
"After we got our roles, we needed to meet up everyday to learn the music…[and practiced] choreography and scenes based on our character…" musical cast member and sophomore Katie Albright said.
Elaborate decorations like the whimsical Truffula trees illuminated the stage and caught the eyes of the audience. Vibrant lights beamed onto the dynamic students, adding a tone of playfulness to the stage. As the curtains opened up, each character's lively acting and appearances filled up the theater with good energy. While the miniature Whos scurried along the stage and singing filled the room, the audience couldn't help but take in the multi-sensory spectacle.
"Seussical" tells an uplifting story where an unlikely love emerges between an elephant and a bird. The elephant Horton, motivated to save the helpless "Whos" from extinction, is portrayed as a sympathetic martyr. Amidst his tumultuous journey for self-sacrifice, he meets an unlikely partner, Gertrude McFuzz, who similarly exists as an outcast in a judgmental society. The ability for McFuzz and Horton to establish a relationship while saving the Whos tells an inspiring story to pursue what's right, despite the harsh judgement of others.
"This show is a lighter show…but its message is acceptance of others…being kind to people…learning to value and accept the differences we all possess," Shackleford said.
Hostility and judgement surround everyday decisions in modern society, similar to the unlikely love between Horton and Gertrude. The ability to overcome and accept one another is an important life lesson immaculately packaged in "Seussical" in a fun and lively manner.
About the Contributor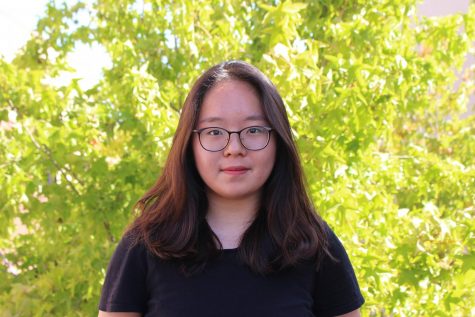 Christine Jang, Business Manager & Title Page Editor
Hello Warriors! My name is Christine Jang, and I will be working as a business manager as well as a staff writer in the Golden Arrow! Thank you for reading...