Three sophomore orchestra players accepted to the Honor Orchestra of America
Warriors represent Woodbridge High at the national level through orchestra
Being talented musicians, sophomores and violinists John Cho, Tiffany Jean and sophomore violist Claire Kim were part of the prestigious National Honor Orchestra of America. They performed with the top musicians all over the nation in Indianapolis, Indiana for four days from March 14 to March 17. As one of the most skilled musicians in the nation, all three sophomores proudly represented Woodbridge at the national level.
"I was very excited they were able to represent Woodbridge and the musicians here. I think they were the only ones from our orchestra to audition and all three made it which of very high prestige thing to do," music director Joslynne Blasdel said.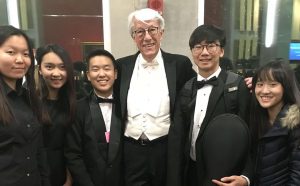 Requiring both a fast, upbeat tempo piece and a slow lyrical piece, the audition process tested the technical and musical abilities of the string players. These pieces were recorded in a video or audio format and sent in before the deadline last November.
"I applied because I thought it would be a really good experience to play and practice with other musicians around the nation," Kim said.
The group performed Shostakovich's Symphony No. 5 and Rimsky-Korsakov's "Procession of the Nobles", both pieces of extremely hard difficulty not usual to high school students.
"It's okay if it's not super perfect because we worked on really hard repertoires over a span of a couple days. It didn't have to be a 100 percent perfect and we still made improvement. Also you can make improvements along the way," Cho said.
The orchestra worked with conductor Larry Livingston and assistant conductor Sey Ahn, both important figures in the world of music. Through guiding and inspiring the group of talented musicians, the sophomores mentioned the impact the maestros had on them.
"Maestro Livingston was really funny and we got really close as an orchestra within a span of a couple days, so it was pretty exciting to work with such a high caliber conductor," Cho said.
Along the span of just a few days, the sophomores learned more than just the technical aspect music, but also the importance and value of the music making process.
"I feel like the biggest takeaway would be to really enjoy music and to think about what society is like with music rather than just living without it because maestro Livingston told us that we should be really grateful for music and we should follow it and pursue our dreams," Kim said.