Thrifting Through Time
Explore rare one-of-a-kind items, clothing and furniture just minutes away
Store: Spice and Tulips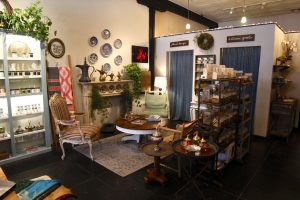 Location: 403 El Camino Real, Tustin, CA 92780
Overview: Turkish owned and inspired, Spice and Tulips is the perfect place to go for organic self-care products as well as one-of-a-kind vintage furniture, clothing, plates and jewelry. This unique shop not only has items that a typical thrift shop would sell, but it also has a large selection of organic hair oils and mists, face oils, perfumes, soaps, lip balms and candles. Its beautifully designed jewelry is classic and special, with colors of deep orange and red being a common theme. Multiple items in the store, such as cups and plates, textiles, board games, scarves and meditation beads, reflect Turkish culture. But despite all the items offered, the most unique aspect of the store is its variety of bird feeders as well as its wide collection of spices and herbs following a Turkish theme.
Store: Assistance League
Location: 445 El Camino Real, Tustin, CA 92780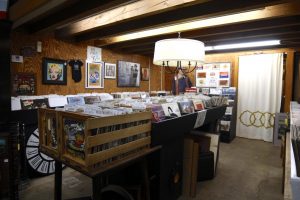 Overview: Assistance League in Old Town, Tustin is the most practical thrift shop of the three listed. Items like kitchenware, books, children's toys, shoes and knick knacks make up most of the store. It also sells vintage records from various classic artists and what appears to be handmade weave baskets. The main feature that sets this thrift store apart is the seasonal decorations that are on sale, with Halloween decor being their current collection. Overall, this thrift store's fair price makes it not only a convenience, but also an interesting method to explore old-fashioned items that are a rarity in this day and age.
Store: Mrs. B's Consignment
Location: 115 W Main St, Tustin, CA 92780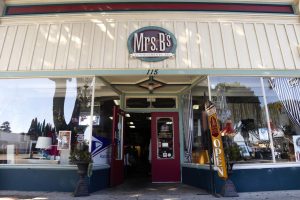 Overview: Mrs. B's Consignment Etc is a classical thrift store full of every vintage item you can think of. Not only does it sell clothing, but it also has antique furniture such as chandeliers, lamps, chairs, vanities, pillows and loveseats. The wide selection of classic clocks gives the store a sense of uniqueness and character. The most interesting aspect of the store is its collection of modernized and beautifully painted portraits of old actresses such as Marilyn Monroe and Audrey Hepburn. However, Mrs. B's is not just a vintage shop: it is also a U.S. Post Office. This convenient aspect of the store enables customers to pass through for post office services and go through time to explore the wide variety of vintage items on their way out.