The Culmination of a Rewarding Year
An Inside Look into the 2021 Sentinel Awards Ceremony
Despite the unpredictable challenges of the past year, this year's Sentinel Awards ceremony was organized to recognize the school's most dedicated seniors. 
Though it has become obnoxiously redundant to note, the past eighteen months have presented many challenges that most high schoolers would not have expected. I personally spend a frustratingly large chunk of time worrying about my future, but my anxiety-prone brain never anticipated a pandemic.
With this in mind, many of Woodbridge High's most dedicated students are exhausted. I am not a senior, but I consider myself a dedicated student, and I attended Sentinel Awards as a member of the choir ensemble that opened the ceremony. 
I'll set the scene, beginning with a quote from Principal Christopher Krebs's description of the event. 
"Part of the reason the sentinel awards are so wonderful is that we have our jazz band playing and we have our choir singing and everybody's dressed up and it's at night and it gives it this really grand feeling," Krebs said.
Most students outside of the Virtual and Performing Arts Department have not had the opportunity to explore the inside of the new theater, and many students have never attended one of the previous Sentinel Awards ceremonies. The new theater that now rises over Jamboree, finished early in the 2020 school year, feels much bigger on the inside than it looks on the outside— an architectural Tardis if I ever saw one. 
"Our students finally fit on the stage – even with social distancing!"  jazz band director Joslynne Blasdel said.
The ceremony's rehearsal, which took place the afternoon before Sentinel Awards, saw headset clad technical theater students fast-walking from backstage to the booth, via the maze of rooms running along the length of the theater. Most of the rehearsal was spent arranging singers by height and practicing the entrance from the lobby. The jazz band musicians ran their songs at the back of the stage; a relatively small, reserved group compared to their theater and choir counterparts.
On Tuesday, May 18th came the ceremony itself. In the interlude between our 4:30 p.m. call time and the 6 o' clock performance time, we singers split into small groups of three or four and settled down in corners of the black box theater, or walked to the lunch tables outside to study.
Though few choir kids I know would turn down an opportunity to be in the spotlight, for many of us, performing was not the first thing on our minds this Tuesday afternoon. Finals were approaching, and many of us had an AP exam in the next few days— some of us, me included, the next morning. The apprehensive buzz that normally resounds backstage before a concert was absent, replaced by a duller atmosphere accented by the sounds of the jazz band practicing on stage. We were tired. 
I asked Chloe Selby, a senior and trumpeter, how she managed to divide her time between a performance and upcoming tests. "I mean, it's kind of always like that, though, not just on performance nights," Selby said. "We were going to go out to dinner and then we realized, 'oh shoot,' we have AP tests tomorrow."
I watched from my seat at a lunch table as, across the parking lot, seniors gathered at the theater's entrance, warming up to interacting with friends they may not have seen all year. Some seniors received the chance to interact with peers they hadn't seen at school since their junior year. 
Seniors Kevin Corrigan and Elliot Gilbert, both of whom performed in choir and received awards, gushed about one another's talent.
"Elliot carries many portions of the choir," Corrigan said. "And makes a big difference in the sound and tone of each performance."
"He can sing any guy's part there is," Gilbert said of Corrigan. "I'm sure he could be in any choir, especially the top choirs and I really think he's gonna go far with music in life."
Soon before the ceremony began, Mr. Krebs beckoned students inside and congratulated each of them individually. 
"[Sentinel Awards] shows our commitment, and my commitment and Superintendent Walker's commitment to fighting to give this senior class everything we can before they walk out the door," Krebs said.
Ten minutes before the ceremony began, the choir was packed into a ten foot by ten foot room off of the house. After several minutes of excited whispering and attempts to shush one another, Vice Principal Charlene McCurry's welcome speech cued us to enter the house. 
We sang our first song while standing in the audience, and the sudden toll of senior Andrew Shalaby's handbells startled more than a few honored seniors. 
"I wasn't really expecting Mr. Blaney to just hand me the bells," Shalaby said. "[But] even something as small as just giving you guys pitches with the handbells…made me feel important in a sense. That responsibility made me feel, you know, part of something bigger."
Shock faded into something softer— a curious awe that I gauged by looking at the only visible parts of their faces. 
There were about as many seniors in the audience as there were performers, and that put us on edge. Singing is vulnerable enough in itself, but towering over our peers as monochrome pillars of velvet and polyester was nerve-wracking to say the least. I envied the jazz band, arranged in a semicircle at the back of the enormous stage. Their maroon button ups and black ties stood out against the wood paneling and golden instruments. 
I also felt reverence for the group of honorees, most of them at least a year my superior. I won't claim to have been swept up in one of those cliched, teary, end of year, "we're all in this together!" reveries. I was however taken aback by a sense of pride in my classmates. Not just because they were getting awards, but because they showed up to the ceremony relatively bright eyed and bushy tailed, all things considering. 
"There was a lot of waiting around until my categories were called," senior Amy Shimizu said. "We would all clap after every name was called, so everyone was basically just clapping the whole time."
Part way through the second song, we walked from our spots in the house up onto the stage. I went into a pleasant kind of autopilot that allowed me to focus my energy on the audience members, spaced six feet apart five feet below the stage. There was an unintentional cinematic moment where my eyes moved from one half-masked face to the next with the precision of a video camera as our sentimental mashup benefitted from the room's acoustics. 
And then it was over. We filed off the stage, out of the house, into the lobby and into the parking lot through the black box theater. 
Our parents weren't there. There wasn't a post-performance photo shoot in front of the theater. There was no traditional carpooling for a late night snack at In-n-Out, fueled by adrenaline. Instead, I had one selfie I took outside the bathroom and sent to my mom, and at 6:20 p.m., I immediately headed home to prepare for my AP U.S. History exam. 
I had roughly eight minutes on the car ride home to reflect. I felt a new kind of connection to the honored seniors, most of which I had barely spoken two words to, if any. But we had more in common than any previous year. Say what you like about the pandemic, it beat us up and stressed us out together. 
"Being able to accept the awards alongside my friends was something very meaningful for me," Shimizu said. "It really felt like our high school years were coming to an end."
The choppy journey to your hard-earned A-minus, made possible by several late night study sessions— that's the easy part. All our complaints and self-doubt usually yield the result we want, but it can be difficult to accept success when it comes. Pushing ourselves into migraines and maturity is the default, but having the guts to celebrate ourselves can be difficult. 
"I think there's been so much taken away since last March," Vocal Music Director Rob Blaney said. "I think there are students for sure who kind of checked out, saying it doesn't matter this year. [But] it matters not just because we have an awards ceremony, but I think any chance we have to acknowledge students and celebrate them is a win."
I was grateful for the moment I spent gazing upon the audience of endearingly innocent and vulnerable near-adults. They were a sea of apprehensively optimistic students who had gotten the stuffing knocked out of them repeatedly for the past eighteen months. They were tired, clad in their best semi-formal attire and allowed themselves to be swept up in an evening of COVID safe celebrations. 
"You made it. You did it. Here you go," Selby said.
About the Writer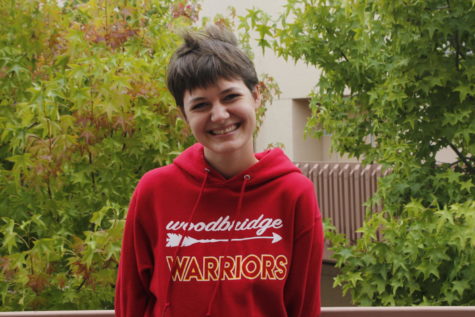 Sophia Anderson, Arts and Entertainment Editor
Hey-o Warriors! My name is Sophia Anderson and I am thrilled to act as your 2021-2022 Arts & Entertainment Editor. As a certified Choir Kid™ myself,...